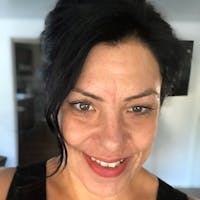 Biography
Kara Nelson is an advocate, activist, and entrepreneur for criminal justice reform and the national recovery movement. She is founder of Katalyst Alaska, an organization dedicated to creating community-based solutions for reentry and recovery programs, through consulting, training and storytelling. She is the former Director of Haven House Juneau, a recovery residence providing housing, peer support services, recovery and reentry assistance, advocacy and healing for women returning home after incarceration and those directly impacted.
A life-long Alaskan, a mother of three adult children, a woman in long term recovery from substance use disorder and formerly incarcerated, all contributes to her fierce dedication to bring freedom to many. She is Alaska's co-lead for Recovery Advocacy Project (RAP), RAP is working to build a visible and effective constituency in demand of community and public policy based solutions in response to America's long standing addiction crisis. Kara is a 2016 Just Leadership USA (JLUSA), Leading with Conviction (LwC) cohort graduate and continues to be an active member. JustLeadershipUSA is dedicated to cutting the US correctional population in #halfby2030. JLUSA empowers people most affected by incarceration to drive policy reform through targeted advocacy, strengthening leadership and membership support.
A multi-award winner, most notably, the Alaska First Lady's Volunteer of the Year Award in 2016 and in 2018, the Director's Award from the Federal Bureau of Investigations, Washington DC, for her leadership and advocacy dedicated to justice reform, elevating addiction recovery services, and fighting for the civil rights of those incarcerated and directly impacted. She has served on multiple boards and coalitions devoted to reentry, transitional services, corrections reform, peer support and recovery coach training, collaborating with lawmakers to shape ground-breaking legislation at state and federal levels.
Most of all, Kara is passionate about seeing individuals, families, and communities experience healing, restoration, and transformation. She brings hope to those incarcerated across the country, is a volunteer chaplain for the Alaska Department of Corrections and is currently pursuing her 2nd year in ministry school.