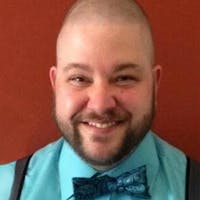 Jordon Bosse, PhD, RN
Project Manager: Research and Education
Biography
Dr. Bosse has worked with vulnerable and marginalized populations for 20 years through community outreach, psychiatric nursing, nurse education, and research, and has seen the barriers to access and quality of care firsthand.
Dr. Bosse has provided education to service providers, health professionals, police officers, and students in social work, counselling, medicine, nursing, pharmacy, and recreational, physical and occupational therapy on the needs of populations such as people who use injection drugs, LGBT populations, and people who have experienced homelessness, incarceration, or have engaged in survival sex.
He has been a partner in advocating for the needs of vulnerable populations in 1:1 conversation, on local boards and coalitions, and statewide committees.
Education & Training
University of Massachusetts, Amherst; PhD, Nursing

St. Joseph's College of Maine; MS, Nursing Education

University of Southern Maine; BS, Nursing

American Academy of Nursing Jonas Policy Fellowship

Fenway Summer Institute in LGBT Population Health