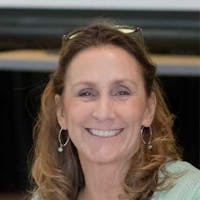 Ginger Ross, CRSW, Psychology, US Army Veteran
Program Manager, Certified Peer Coaching
Biography
Ginger founded NH Recovery Coach Academy in 2016 to fill a void and support workforce development for recovery coaches in NH. Ginger designs and provides consistent, quality, relatable trainings to those preparing to serve in peer recovery coach role. Ginger also received her Core training status for nationally recognized CCAR Trainings in Jun3, 2018. Ginger has trained over 1,000 participants in the recovery coach filed over past two years, in NH, MA and CT and ME.
Ginger is a member of the NH Governor's Recovery Task force (2015), a board member for the NH Problem Gambling Council, and a fierce advocate for quality skills and professional development for strong outcomes in the recovery support profession.
Ginger has her Bachelor of Arts in Forensic Psychology and holds the Certified Recovery Support Worker license in NH. Ginger has worked with Granite Pathways, since 2016, in a variety of roles including group facilitator for Sober Parenting Journey Group, CRSW Supervisor launching Regional Access Point Services, and the launching program manager and current training director for Strength to Succeed program (Recovery Coaches in every DCYF office in NH).
Ginger lives in Hampton, NH. She has two daughters; one interning in Washington, DC in international communications, and one a junior at Dickinson College heading to Italy for a semester abroad. Ginger's favorite past time is boating on the ocean with her fiancé.
Education & Training
Southern New Hampshire University; BA Psychology